Herman and Mrytle Leffel Farm Becomes The 100,000th Electrified Farm in Wisconsin In 1949
Click Images To Enlarge

In 1949, the Herman and Myrtle Leffel farm in the Town of Wien, Marathon County, became the 100,000th farm electrified by private electric utilities in Wisconsin. Wisconsin Public Service Corporation installed the power to the farm. At that point 94% of farms in Marathon County had electric service.
The Leffels were honored on November 8, 1949 at a program at Ripon and received an electric milking machine and a refrigerator. An interview with the couple was broadcast on radio. The interviewer asked Mr. Leffel why he waited so long to connect to electric power. He responded "We might have had electric service before, but we just didn't have the money to pay for the wiring. Already 15 years ago there was a line within ¾ of a mile of our place. Anyway, we are mighty glad to have service now."
Mrs. Leffel described how she used electricity in the house: "We use it for lighting and radio and I have a flat iron and washing machine and we pump water for both the house and barn with electricity. Even though we have been using it only a short time, I don't see how we ever managed to get along without it."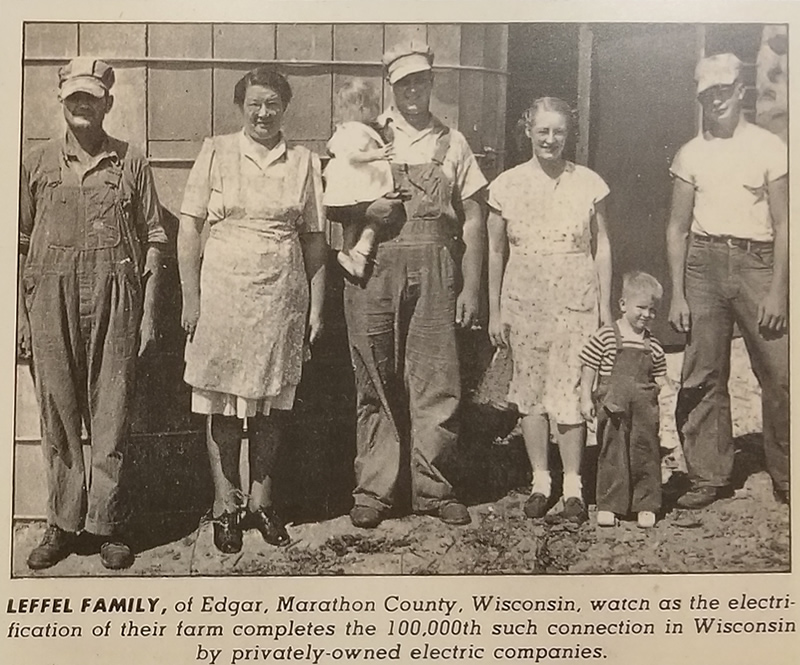 The Leffel Farm Before Electricity
Herman and Myrtle's son Leonard was interviewed in 2016 and described his parents' dairy farm. At first the Leffels had 16 or 17 cows, which later increased to above 20. The milk was sold to a cheese factory in the Town of Wien run by Emil Mech. They raised pigs and grew corn, oats and hay for the animals. Herman used work horses until the early 1940s when he bought a tractor. During the winter Herman worked at Roddis Lumber in Marshfield to make extra money. Before electricity, kerosene lamps and lanterns were used on the farm. Myrtle cooked on a wood stove and the house was heated with wood. Water was carried into the house from a pump located outside the back door. There was no ice box; food was stored in the cellar to keep it cool. Laundry was done by hand with a tub and washboard. The family had a battery radio and telephone service.
Leonard recalls what helped his father decide to get electricity: "A neighbor moved into a farmhouse and he had a friend that would go out and wire these buildings up that didn't have electric wires in them. And that's what made him decide."
Henry and Myrtle Leffle home in Edgar, Wisconsin being electrified
---

Click The Images Below to Enlarge