Yawkey House Museum
403 McIndoe Street, Wausau, WI 54403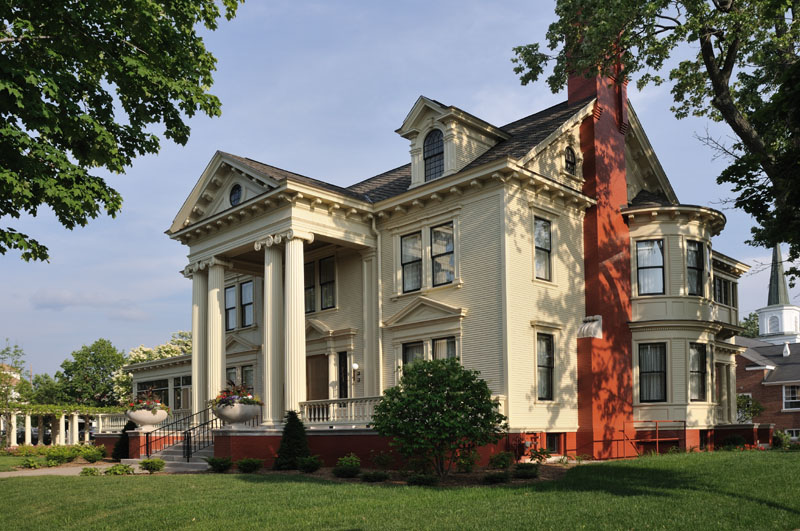 Stunning details and a commitment to quality are evident in both the interior and exterior of the Yawkey House Museum. The exterior showcases Classical Revival architecture with stately lines and original decorative elements, and also includes a beautiful outdoor sunken garden with a carriage house unique to the needs of the early twentieth century. Inside, experience the style and warmth of Arts and Crafts influenced design with built in cabinetry and extraordinary stained glass features.
View Our Slide Show | Watch Our Video
Aerial Tour Of The Yawkey House Museum and Grounds
Hours
Tuesday - Friday
9:00 am - 4:30 pm
Saturday - Sunday
1:00 pm - 4:30 pm
Tours
Guided tours begin on the hour with the first tour starting at 9:00 am on Tuesday - Friday and 1:00 pm on Saturday and Sunday. The last tour begins at 3:00 pm. Guided tours leave from the Woodson History Center and will last one hour.
Group tours are available during our normal business hours and must be scheduled in advance. Exceptions to the tour times listed above will be considered. If your group would like to request consideration for a private tour outside our normal hours, please contact us at (715) 842-5750 or fill out our online contact form.
Admission
Admission fees are listed below. Tickets are available for purchase across the street at the Woodson History Center. Members are always FREE. Click Here to learn about becoming a member.
Members
Adults
Seniors (65+)
Students (6+)
Children Under 6
FREE
$7.00
$6.00
$5.00
FREE
After Hours Tours
Our After Hours Tour is available for groups of up to 15 people and includes a personal guided tour of the Yawkey House Museum and a use of the Woodson History Center Dining Room for after tour refreshments. Click Here for more information.
Parking
Limited Parking is available in the back of the Woodson History Center. However, you may wish to park on one of the lovely streets in our historic neighborhood. We have Walking Tour brochures available for those who would like to learn more about the many historic homes and buildings in our neighborhood.