Safety Education from Employers' Mutual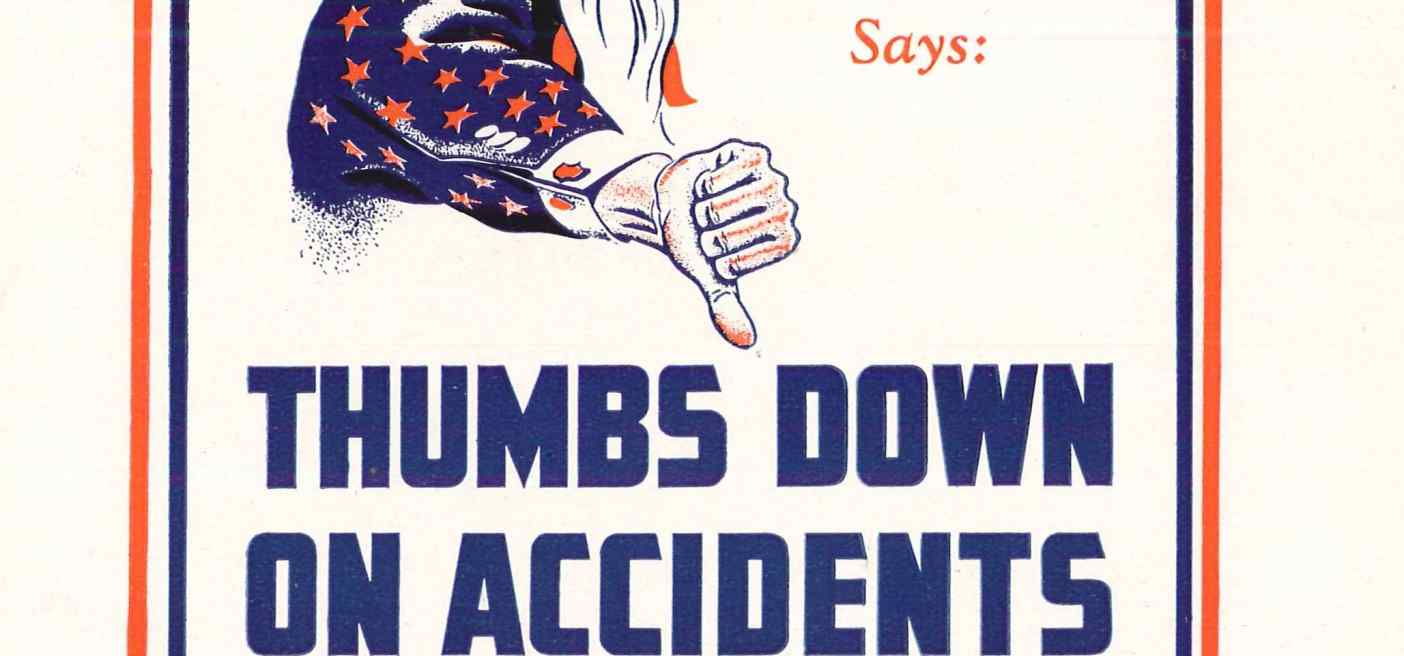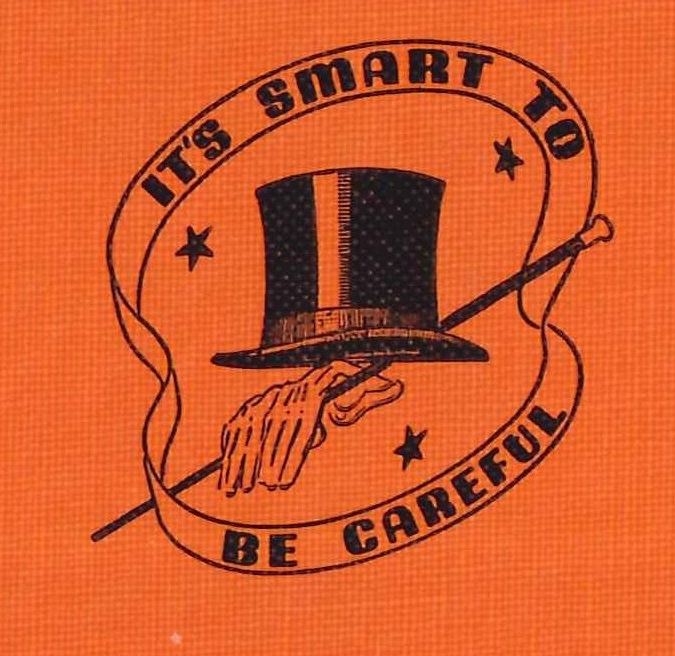 In 1937, the Employers Mutual Liability Company of Wausau (later Wausau Insurance) published A Guide Book in Safety Education by G. W. Bannerman—then principal of Wausau Senior High. For a company founded to provide worker's compensation insurance, it was sound policy to increase safety and decrease accidents which led to less claims paid out by the insurance company. So it was not the first safety publication Employers Mutual had published, nor would it be the last.
But A Guide Book in Safety Education was different. Unlike other Employers' Mutual publications that were directed at the workers in the factories and offices of their policyholders, this book aimed to reduce accidents by teaching safety to children not yet in the workforce.
G.W. Bannerman, (who would end up serving the Wausau area in positions from civics teacher to superintendent between 1923 and 1966) wrote 124 pages filled with suggested courses, activities, and resources for students ranging from "the Kindergarten" to Vocational and Technical Schools. The goal was to provide options for teachers to integrate safety-oriented lessons into their classes—of all subjects, with the goal of bettering society in general by improving the safety knowledge of America's future citizens.
---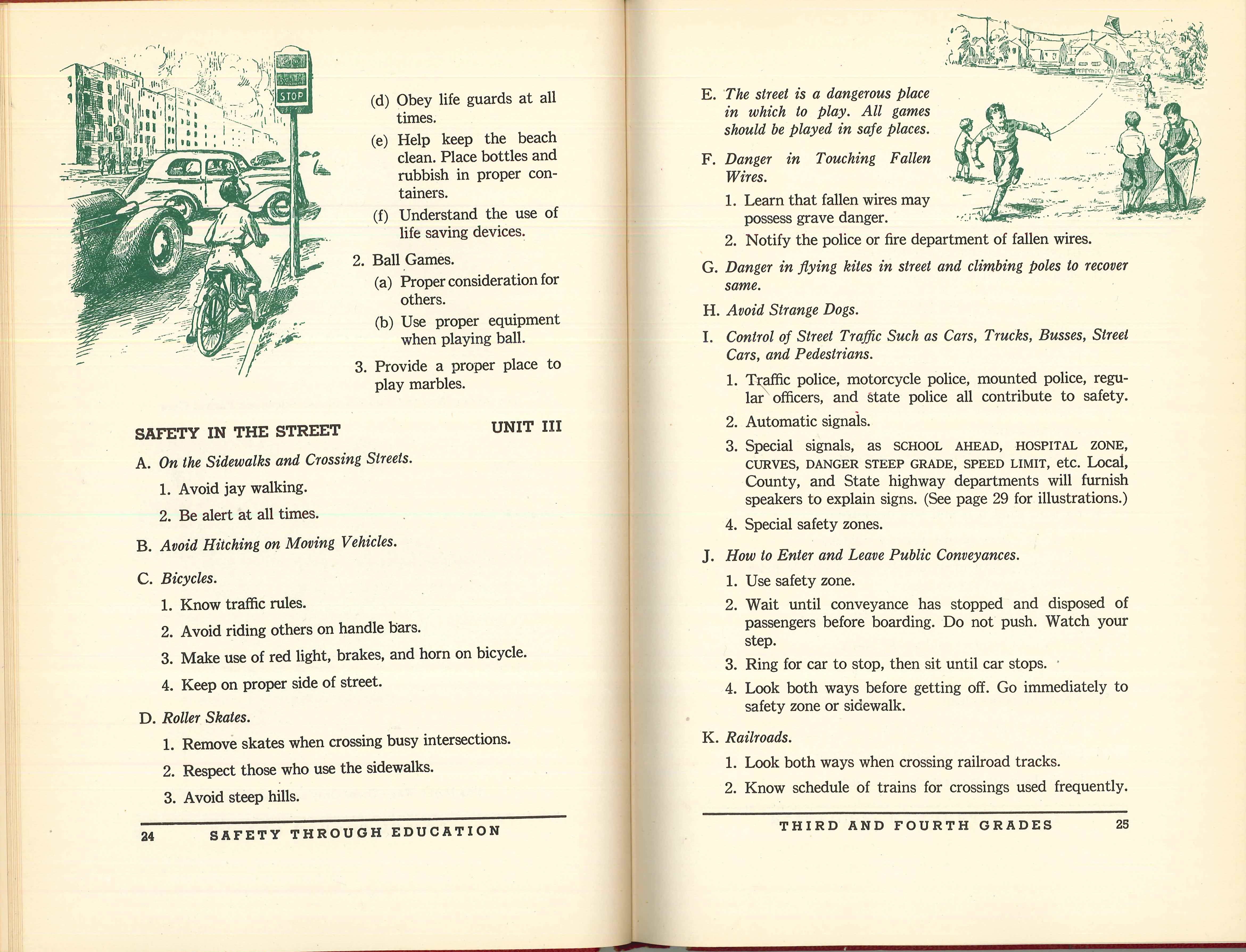 For example, Bannerman's suggestions on how to teach "SAFETY IN THE STREET" to Third and Fourth Graders (above), urges children to "be alert at all times" when "On the Sidewalks and Crossing Streets," while also cautioning them to "Avoid Strange Dogs."
---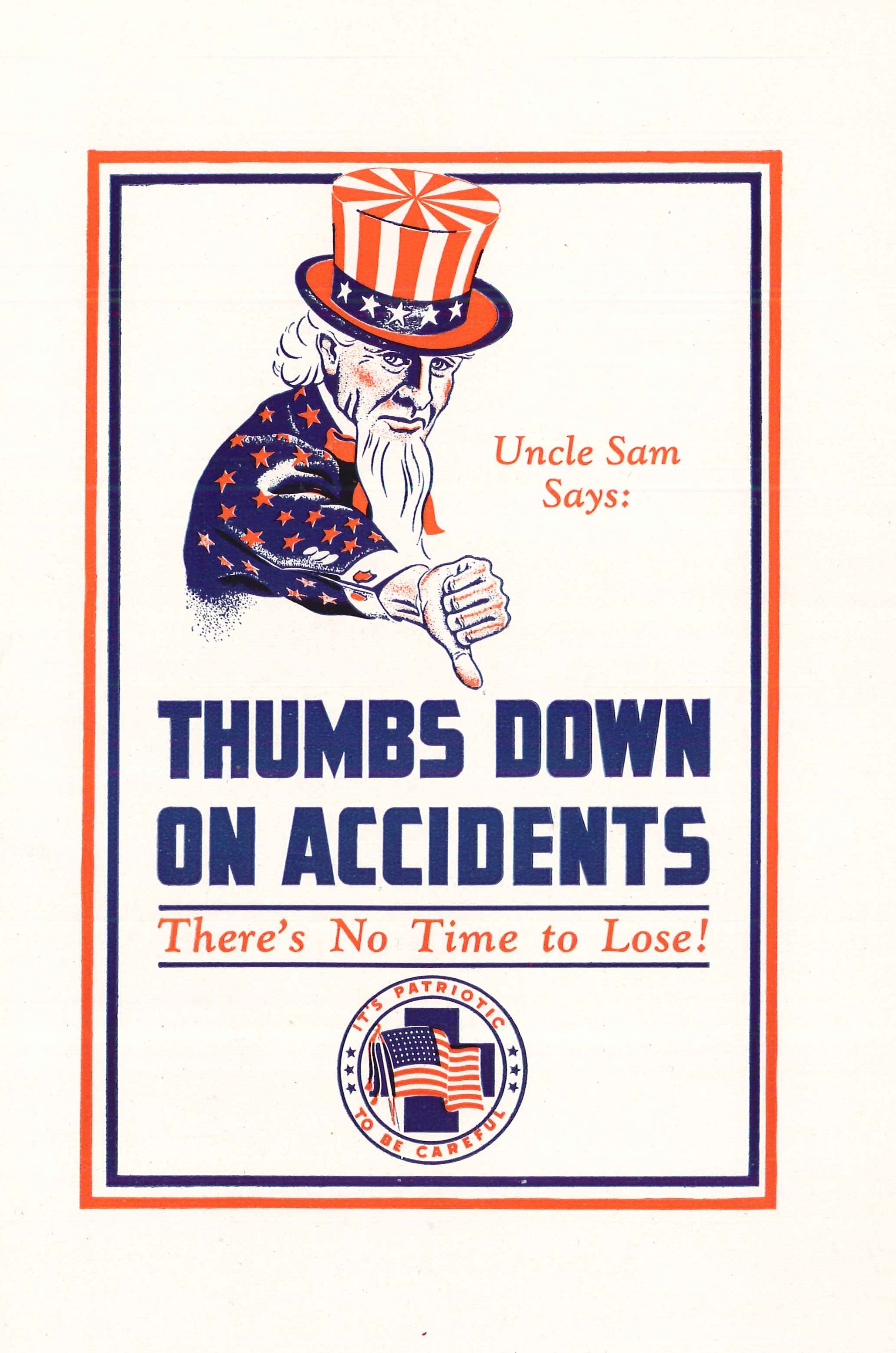 A second edition published in 1942 added a patriotic reasoning for reducing accidents. A newspaper article from earlier that year noted the new edition was created "with an eye to including the patriotic motive for safety…which is now being stressed in the campaigns of the national government." It also included patriotic graphics (such as the one to the right) in addition to revised lesson plans to address comments from educators who had used the first edition.
---
Certainly the goal of reducing accidents nationwide through education was a noble endeavor. But it is not necessarily a goal one would expect from an insurance company. It is possible that by teaching junior high school students about automobile safety, there might eventually be less accidents and therefore less claims for EM to deal with down the road (even if they weren't at the workplace of their policyholders) but that is very long-term planning. It would have been an ambitious task for a government agency or some other institution dedicated to improving public safety, but remember A Guide Book in Safety Education was published by a company that primarily dealt with worker's compensation. Teaching elementary-aged children not to play with matches could not have had so large an impact on reducing fires at the factories of EM's policyholders.
The circumstances of the book's creation are unclear. Maybe Bannerman was already working on the curriculum and Employers' Mutual stepped in to fund it. Or perhaps the publication was okayed by EM executives because it looked good from Public Relations point of view (EM was always great at publicity). But I'd like to believe that A Guide Book in Safety Education is a genuine attempt by Employers' Mutual Insurance Company of Wausau to reduce accidents nation-wide through the education of children.