The Famous Face of Bill Hayes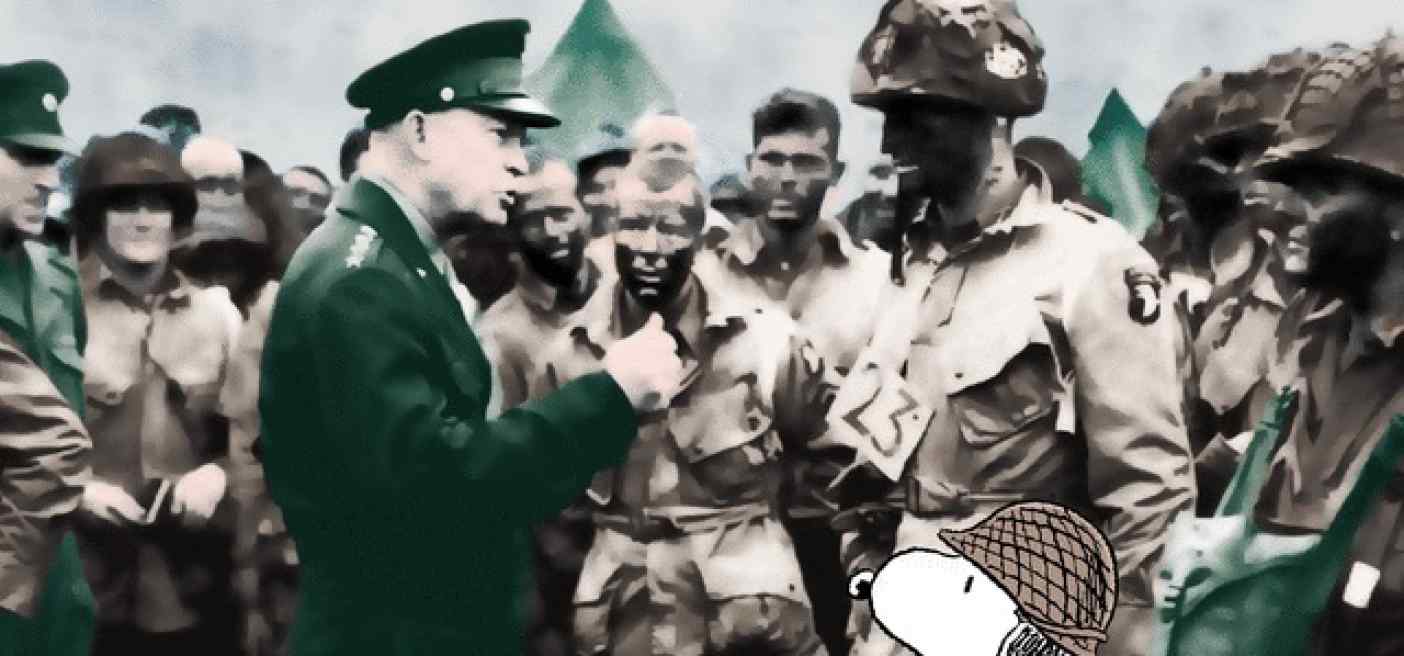 You probably will not recognize the name Bill Hayes. But chances are you have seen his face before, and in fact more people have probably seen Bill's face than any other person born in Wausau. His likeness has appeared on the cover of Time magazine, drawn with Snoopy in a Peanuts cartoon, appeared in books and documentaries, and even found its way onto a U.S. postage stamp. All because of a chance encounter with General Dwight D. Eisenhower, on one June evening in 1944.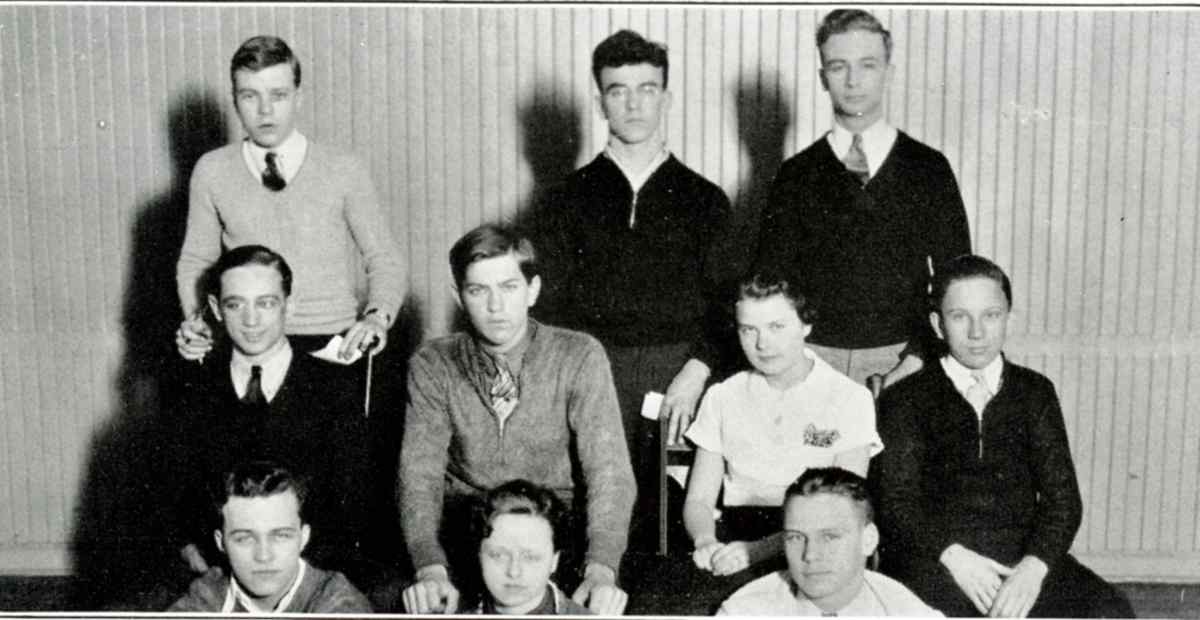 William Hayes was born in Wausau in 1918 and graduated from Wausau High School in 1936. In his senior year, Hayes was class vice-president, an editor of the Wahiscan (school yearbook), became involved in the commercial club, played tennis and basketball, sang in the choir, and participated in the school play. Image to the left shows Bill (on far left, top row) and his fellow yearbook staff in 1936.
After he graduated, he took a job at Sears, where he would work his way up to becoming manager of the paint and wallpaper department.
In late 1941, the United States joined World War II and Hayes was drafted. He spent most of 1942 training to be part of the army's armored division. But he found tank training uninteresting and was drawn instead to the paratroopers he watched conducting practice jumps from nearby platforms as he was out doing manuvers.
Hayes put in a transfer to join the airborne division. He recounted that his commanding officer at the time tried to talk him out of it, "[he] promised me my own tank if I stayed, and said he would give me a few days to think about it. But my mind was made up. ... Then he told me he did't think I could make it physically. That made me all the more determined."
Hayes would make it and was assigned to Company E, 2nd Battalion, 502nd Parachute Regiment of the 101st Airborne Division. In September 1943, the Division made the transatlantic crossing, to join the Allied forces being massed in England for the upcoming invasion of France.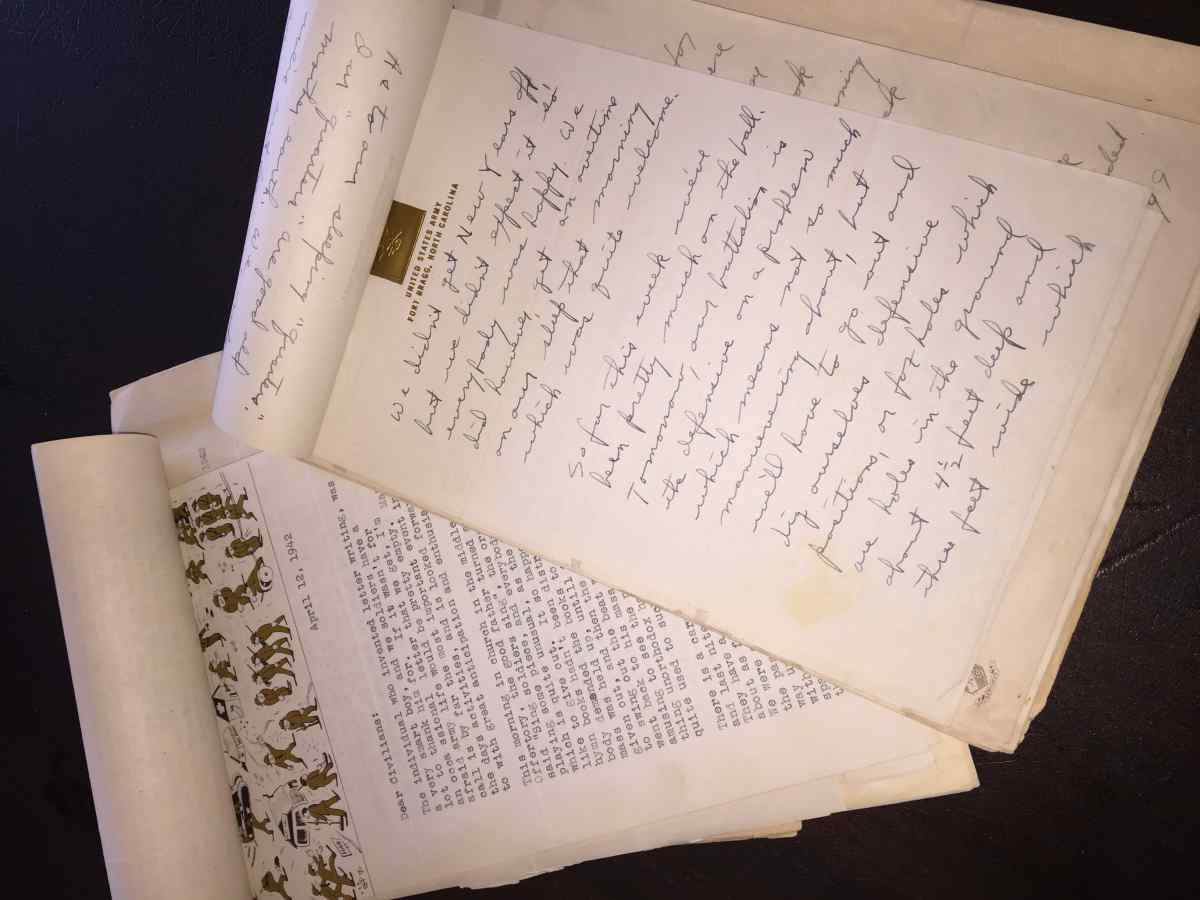 After a few uneasy weeks of waiting, the naval invasion of Normandy was put into motion. Hayes and his fellow paratroopers were given the task of jumping out over enemy-held territory the night before the main force hit the beaches to eliminate artillery defenses and disrupt the Axis response to the attack.
As Hayes checked through his equipment before boarding the transport that would take him over the Channel, he heard someone behind him ask him if he was ready. "Yeah, I guess so," he responded as he turned to see General Dwight D. Eisenhower, the highest ranking Allied commander in Europe and future President of the United States.
Eisenhower then asked Bill where he was from and what he did before the war, before turning to ask the same of other paratroopers who were gathering around him. As one of the Army staff photographers moved to memorialize the moment, the Supreme Commander of Allied Forces in Europe recounted how he had just talked to a soldier while visiting the 506th who had been a ladies' hat maker; "can you imagine a guy doing that being in an outfit like this?"
And that is the moment immortalized by the photographer, in what would become one of the most iconic and recognizable images of the entire war. Bill Hayes' face is directly above Eisenhower's hand; standing without an helmet on his head, his face darkened with cooking oil in preparation for the jump.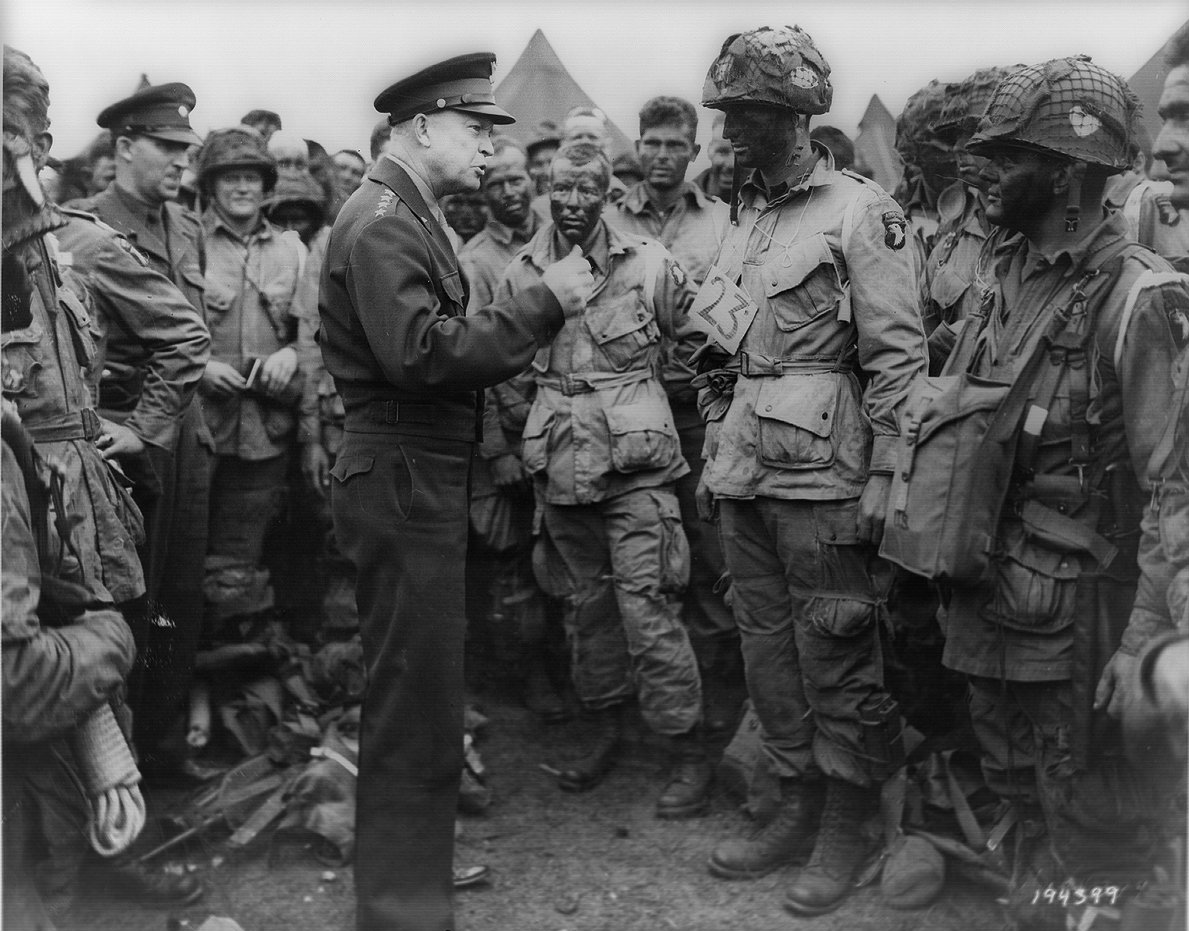 Often the image is explained as Eisenhower out among the troops, inspiring them with stirring speeches, with some variation of "Full Attack--No Retreat." The only documentation with official photograph from the Army information officies is a note on the back, written in fading purple ink, that said that Eisenhower was issuing the "order of the day: 'Full victory--nothing else.'"
But the reality was that he was asking his men where they were from (shortly before the photo he was talking about fly fishing with a soldier from Michigan) and talking about women's hats. It helped calm the nerves of the soldiers and Ike himself. WallaceStrobel (shown with the 23 sign around his neck) later commented that he thought Eisenhower "was worried -- he'd been warned that there might be 70 percent casualties in the airborne units ... I think when he saw that everyone was so high, so ready to go, it made him feel better."
After Eisenhower left, the paratroopers boarded their transports and began the trip to their targets in France. Hayes was separated in the dark from the rest of his unit, and had to cut himself down from a tree where his parachute got stuck. In the confusion of the following hours, Bill managed to reunite with his comrads, and was surprised to find he was considered dead. Apparently a friend who had not made it through the night alive, had somehow been wearing a pair of "Cpl. Hayes' shorts" and had been mistakenly identified as Bill.
Over the next few months, Hayes would advance with the Allied troops through France, jump into Holland as part of Opperation Market Garden, and fight in the Battle of the Bulge. He was taken out of action when a piece of shrapnel wounded him during the fight for the city of Bastogne in Belgium.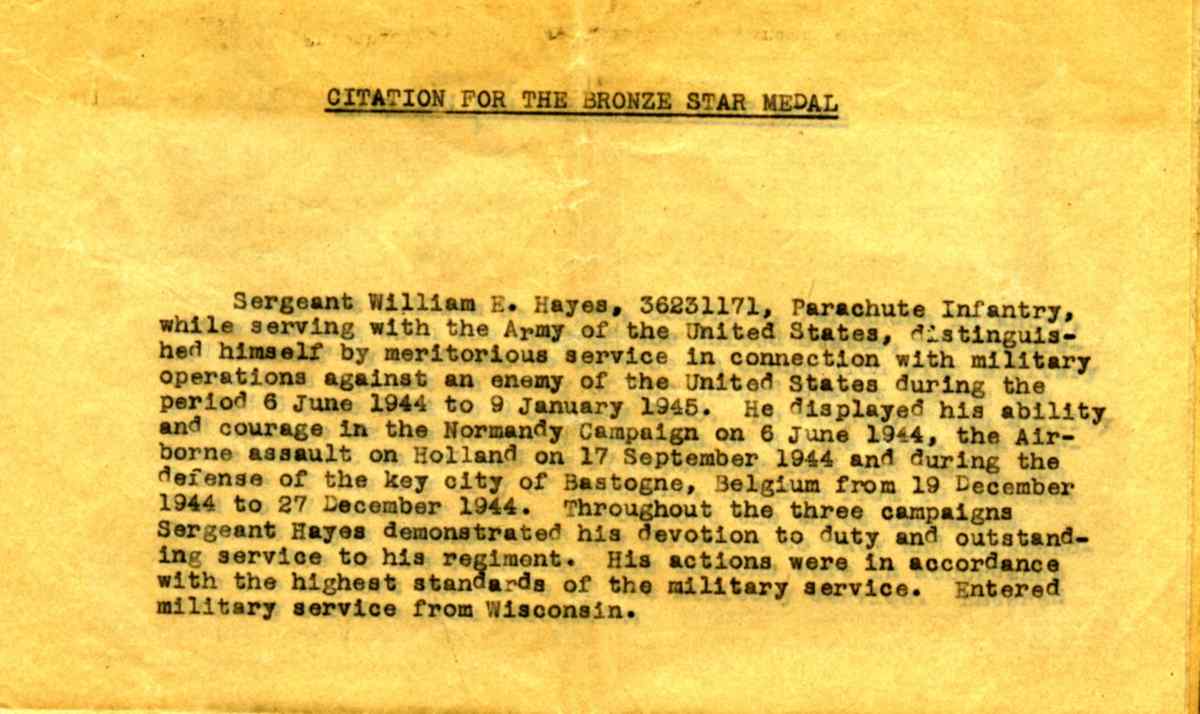 After the war, Hayes returned to working at Sears in Wausau, and was transferred to North Dakota in 1946. And for the next forty years or so, he lived in relative anonymity. The Eisenhower photograph continued to be popular, but there was little interest in tracking down the other individuals depicted for decades.
The original photograph print that surived in the U.S. Army archives included a list of 11 individuals listed as "presumed to be" in the photo, but it did not provide any clues as to which name corresponded with which face. But some journalisitc investigation for the 40th anniversary of D-Day in 1984 did lead to Hayes being identified along with Schuyler Jackson (behind Ike's nose), Wallace Strobel (standing closest to Ike, with 23 around his neck) and Bill Boyle (to Strobel's left, closest to the photographer).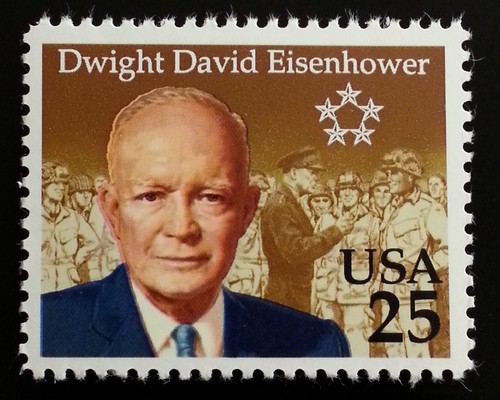 Over the next few years more of the individuals in the photo were identified, in part due to an oversight on U.S. postal regulation. A stamp issued in 1990 to honor the 100th birthday of President Eisenhower (above) used that famous photograph of Ike on D-Day. But U.S. Law forbids the depiction of any person who has not been dead for at least 10 years (with some rare exceptions), and no one had thought to check if the paratroopers with Eisenhower were still alive. But again, investigations helped to sort out who was in the photograph, and whether they were still alive.
By the 50th Anniversary of D-Day in 1994, Bill Hayes had become something of a minor celebrity among fans of military history, and he even reported that he got letters from Europeans asking for his autograph.
Hayes passed away in 2006 in Fargo, North Dakota. His widow passed along a collection of Billl's items from his life in and out of the service to Andrew Dodds--a writer who had interviewed Hayes a few times before his death--and in 2015 Dodds donated these items to the Marathon County Historical Society.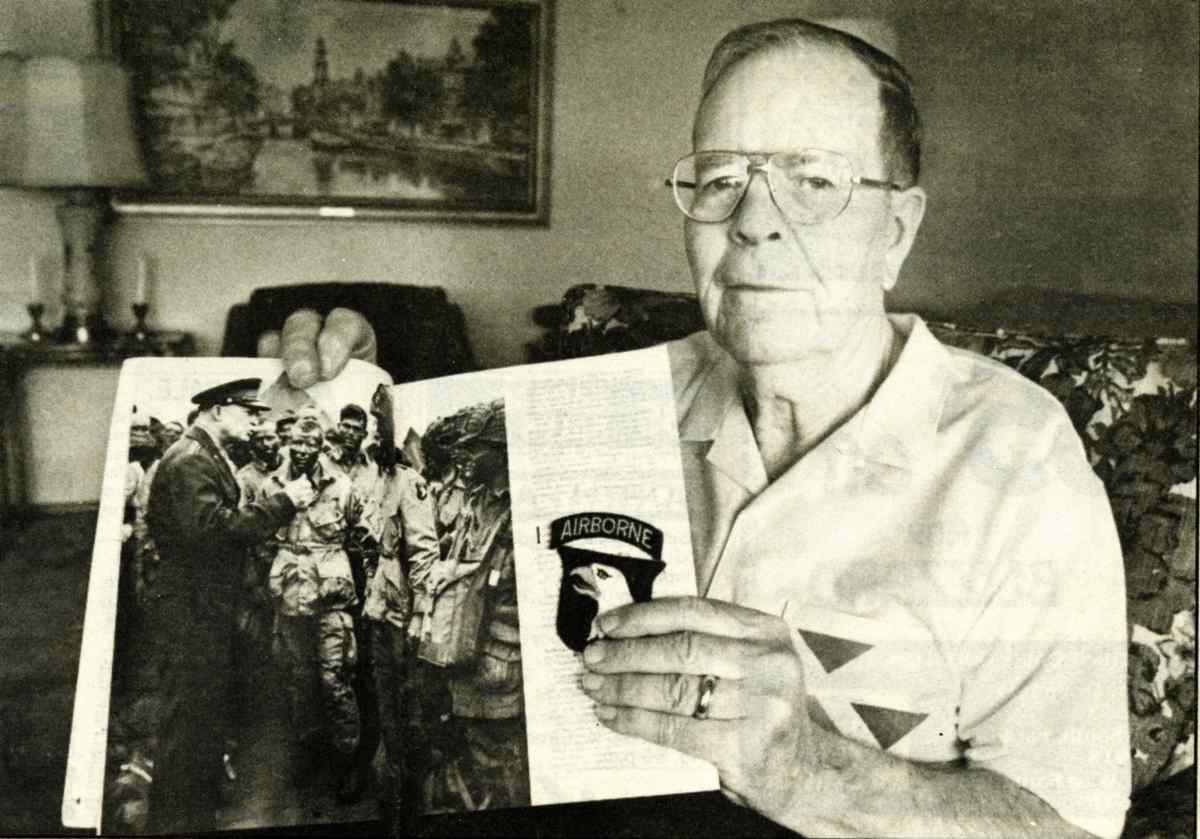 Selected Sources:
Green, Daniel St.Albin. "Faces of D-Day." Washington Post. June 5, 1984.

Healey, Barth. "Soldiers with Ike on Stamp identified" New York Times. 1992.

Klobuchar, Jim. "D-Day/Recollections after 40 years." Minneapolis Tribune. June 3, 1984.

Noteboom, Lloyd. "S.F. Man Recalls D-Day Jump in France, Ike, Tangled Chute" Sioux Falls Argust-Leader. May 31, 1964.
"D-Day Paratrooper recalls chitchat with Eisenhower before Normandy. Chicago Tribune. May 19, 1994.
"Veteran Shares Story." West Fargo Pioneer. May 8, 1995.