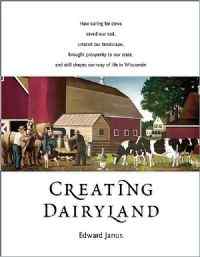 Creating Dairyland
$26.95
---
Creating Dairyland, How caring for cows saved our soil, created our landscape, brought prosperity to our state, and still shapes our way of life in Wisconsin
By: Edward Janus
The story of dairying in Wisconsin is the story of how our very landscape and way of life were created. By making cows the center of our farm life and learning how to care for them, our ancestors launched a revolution that changed much more than the way farmers earned their living - it changed us.
Paperback: $26.95
ISBN: 978-0-87020-463-0
232 pages, 120 b/w and color photos, 7 x 9"; 1.5 lbs.
Published by Wisconsin Historical Society Press