Calendar of Events
The Wausau Story, Revisited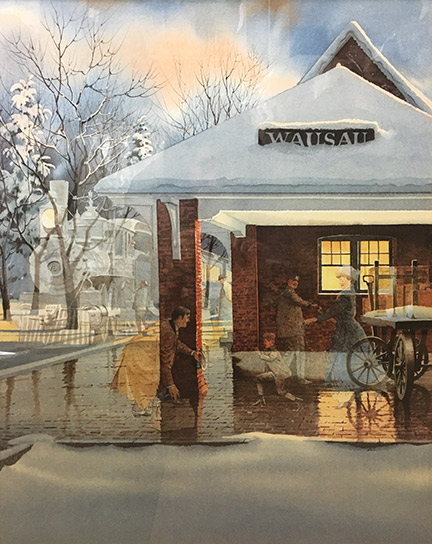 The famous train station named WAUSAU was featured in nationwide advertising campaigns, and depicted by well-known artists. That original artwork was donated by Liberty Mutual Insurance to the Marathon County Historical Society, and will be on display in a special exhibit at the Wausau Museum of Contemporary Art, beginning Friday, October 18, 2019.
The hometown train depot depicted in the artworks (and the ad campaigns) put Wausau on the national map and became an integral part of the Wausau Story. It was the image that said "good people" and carried the nostalgia and small-town charm of central Wisconsin to the living rooms of Americans across the country.
The Wausau depot became the trademark logo used in an advertising campaign, often aired on "60 Minutes" and other national television programs in the 1960s and '70s.


Then, to commemorate the Wausau railroad depot that had made the community and the insurance company famous, and to recall the values of small town America that it represented, Wausau Insurance commissioned a series of portraits of the building. These original paintings were donated to the Marathon County Historical Society from Liberty Mutual Insurance, which acquired Wausau Insurance Companies in 1998.

To see them now, visit the Wausau Museum of Contemporary Art, 309 McClellan St., Wausau. The 14 artworks, plus video of the original commercials for Wausau Insurance, will be on view at WMOCA through the end of December, by special arrangement with MCHS. Financial support for the exhibit provided by the Dwight and Linda Davis Foundation.