What's New
The Debon-aires ~ Wausau's All-girl Marching Drill Team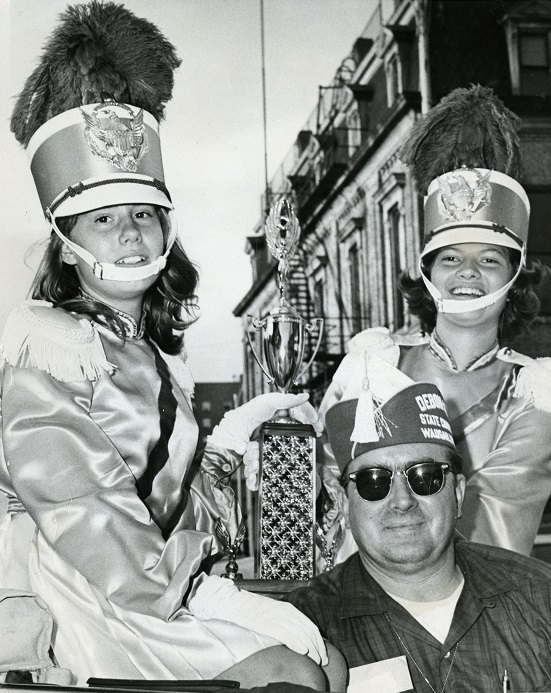 It started with a photo of a Debon-aires Booster pin and a simple question the historical society posted on their Facebook page - Does anyone have memories to share about the Debon-aires girl's marching drill team from Wausau? This elicited wonderful memories from women who had been part of the team. It also brought a response from Kay (Scheibe) Weiss whose father, Ray Scheibe, started the group in 1961. In addition to providing information about the history of the team, she loaned photographs (now scanned and in our archives) along with flags, her boots and jacket, and several other items, all of which are currently on view in the lobby of the Woodson History Center during June 2019.
In May 1961 the Debon-aires were organized under the direction of Ray Scheibe, as a program of the VFW Burns Post 388 in Wausau. At the time, they were the only all-girl drill team in Wisconsin, being comprised of girls ranging in age from 10 to 17. The team, which performed military precision marching and maneuvers, consisted of 15 drill team members, a color guard of four flag bearers, and two rifles. They met on Wednesdays and Saturdays throughout the year and every day for several days before a major competition.
During competitions, the Debon-aires would go through inspections of position, uniforms and equipment. Beginning with a total score of 100 points, judges would deduct points for flaws or errors. The teams big chance came in 1962 when they were invited to enter their first competition at the VFW National Convention in Minneapolis - they took 7th place!!
The team traveled thousands of miles throughout the Midwest and won numerous state competitions. They also performed exhibitions in the Wausau area and for many years were invited to perform on King Day at the Kings Veterans Home in King, Wisconsin. Their proudest moment came in 1964 when they won the National VFW Championship in Cleveland, Ohio. After 16 years of marching, the unit disbanded in 1973.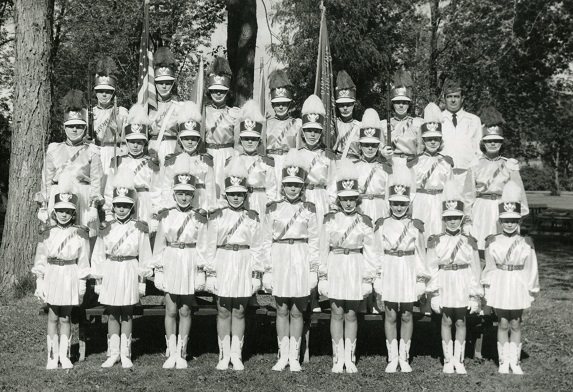 This bring us back to the Debon-aires Booster pin that started this story. Money had to be raised for uniforms and for the travel expenses incurred taking the team to competitions and exhibitions. In addition to financial support the team received from the VFW and private donations, they sold American flags and candy, worked at the Labor Temple coatroom...and sold "I am a Debon-aires Booster" pins.
Kay has very fond memories of being a Debon-aire. "Many of the marching trips included a sleepover, which meant each girl needed to pack a suitcase and a sleeping bag. No floor was too hard for the girls; they enjoyed the entire experience. Girls laughing, giggling, telling secrets and setting each other's hair in curlers for the next day, sorting out their clothing, polishing their boots and, finally, sleeping. This experience was wonderful for many of the girls that passed through the Debon-aires Drill Team. Memories like this warm the heart. They played hard and they worked hard, and they developed a true appreciation for the American Flag, unity, hard work, and the beauty of our land."
By Kathy Volkmann, Curator of Artifacts