Celebrate aviation with the Marathon County Historical Society as we present
Wings Over Wausau: The Story of Wausau Aviation – Past, Present and Future
May 20 will be one wondrous day at the historic Wausau Downtown Airport and the newly renovated Alexander Airport Park! The Marathon County Historical Society presents Wings Over Wausau: The Story of Wausau Aviation – Past, Present and Future at the Wausau Downtown Airport, 725 Woods Place, Wausau.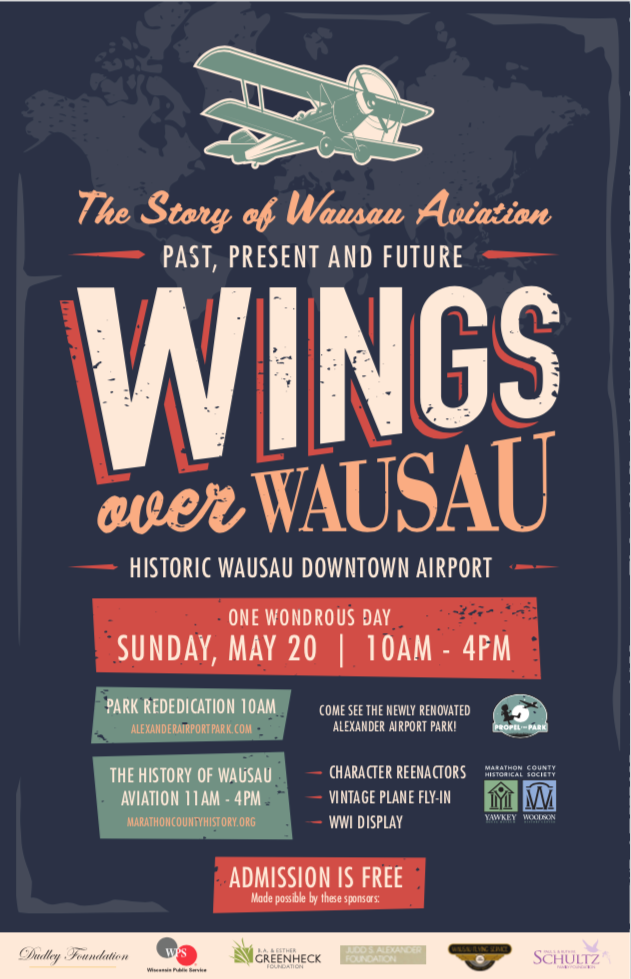 The day will begin at 10 am with the Re-dedication Ceremony celebrating the newly upgraded Alexander Airport Park and officially unveiling all the new features in this amazing neighborhood park. Have you seen the Wausau VFW's Corsair in its new home?
Then from 11 am to 4 pm, visitors can join guided tours of the airport – complete with costumed re-enactors telling harrowing tales of many aviation pioneers – plus more than a dozen vintage airplanes. Re-enactors will tell about Amelia Earhart's visit to Wausau, the Alexander brothers who developed the airport, and other stories from the past. Artifact displays and photos will help to flesh out these stories, as docents guide each group through the various stations. Visitors also will be able to view 13 different historic aircraft, brought to the Wausau Downtown Airport just for this event.
This event is free for the general public to attend. For more information, please call the Marathon County Historical Society at 715-842-5750.
Support for this event was provided through the B.A. & Esther Greenheck Foundation, Wisconsin Public Service, The Dudley Foundation, Judd S. Alexander Foundation, Wausau Flying Service, Sun Printing, and the Paul S. & Ruth M. Schultz Family Foundation.